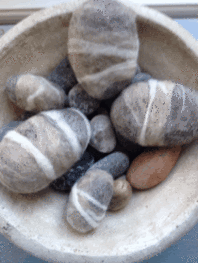 What is a person to do when it is cold outside? Play around on the computer. Clearly a one handed gif is a little wobbly but you get the picture.
As promised weeks ago I am going to share a quick little project I squeezed in, in between cleanings and house viewings. These soap stones are not new to the crafting world but they are alot of fun to make and I love trying to replicate the felt roving strands to look as much like a beach stone as possible.
I have many little soaps I have received as gifts that I could never use up. My dad also brought me some lovely lavender soap from the south of France on one of his cycling trips. I have tons of the stone coloured roving around that I bought when our local knitting shop closed down. Helana used to make them for her
pet pebbles

.
Combine them all and you have a little stone of soap ready to use or gift to a friend.
The oval soaps make a really authentic beach stone. The little eggs look so cute as little pebbles.
The centre image in each photo shows how you can just wrap up the stones loosely in the roving before their hot water treatment.
1 - supplies at hand including a small felting needle (optional) soaps and roving - grey, brown and natural
2 - loosely wrap the soap with grey first, then a few strands of the light brown and finally strips of the natural to create the veining.
3 - I ran some very hot water over my creation just to get an idea of how the placement is working
4 - all that fluffy roving attaches itself to the soap with a few dunkings.
5 - to really pack it down I put them in nylon sockettes and rubbed them
6 - I let them drain at the bottom of the kitchen sink
They make a nice little hostess gift. I'm thinking they might look good piled on in a bowl in our new powder room. I have about a year to plan that so I'll have to tuck these away in the pile of boxes that are amassing themselves all over the house.
Keep warm and toasty!